Hi!
First! Thank you for signing up for our Email by LeahAndMark.com. We know there are a lot of photographers out there, and you can learn this stuff from anyone – so the fact that you've signed up to receive yet another piece of email – well, we appreciate it very much 🙂
(We will always throw photos into these Emails so if you're not seeing any because your email client doesn't automatically show them – click on the 'display images' link usually at the top somewhere)
So. We really struggled with deciding on what we were going to write about in this first Email. Shutterspeed? f/stops?! Light?! no. Although all of that is pretty simple to explain – it's not what we're trying to do through these Emails. We just want to give you some new ideas, remind you of concepts you forgot, and maybe help you reinterpret old ones. What's the tip in this email? Perspective. Well – having a specific perspective in mind when composing your shots.
Without trying to sound smart or go into any kind of a textbook explanation – we'll just say that for now, if you aren't already – try photographing your subjects at eye level or lower, especially children.
It's really that simple. In fact – it's so simple that whenever we photograph someone, we start at their eye level and adjust from there depending on the composition of the photo. An easy generalization you can make is that people who just take 'snapshots' – take the photo from whatever position/height that they just happen to be standing or sitting in. They take a picture as they see it. Most adults are taller than children – so you end up with mostly photos that have a downward angle. This is the same shot that nearly everyone takes of children. It's not exactly 'bad' – but it's what we actually SEE with our eyes – what we're aiming for with our photos is to capture a different perspective. That's part of the reason why photos are COOL. Because they're different from how we see the world most of the time.
If you want to make it a very simple rule to start with – simply shoot from an angle/height/position that you would not normally be in, eye-level or lower than your subject. Doing that alone will change your photos by 63% and all of a sudden they won't look like all of the other snapshots you've taken.
If you check out our children/family portfolio – you'll notice that we follow this rule pretty closely. Even if there are adults in the shot – we're taking the photograph from the child's height. That's how you can make better photos of children without buying a new/better camera.
And if you think it's tiring – bending down on your knees and running after kids, trying to get that shot while being at their height – you're completely right. Sometimes we're lying flat on our stomachs in the dirt, or kneeling down in the dirt, or on our sides, in the dirt. Yeah, it's like that for us because we'd rather get the shot than stay clean. Of course you don't have to go to such extremes, but you get the idea – don't be lazy and stop taking all of your photos while standing there with locked knees.
Get down at least to eye level, or lower – and get close. You may have already seen it – but in this 'behind the scenes' video from our Phoenix sessions, you'll notice how I'm basically on my knees for every photo I'm taking.
We're fans of art. I'm a big fan of renaissance art (and if you want to be really specific, Dutch Baroque) – one of my favorite painters is Jan Vermeer. In EVERY painting of his, the perspective is just below eye level or lower.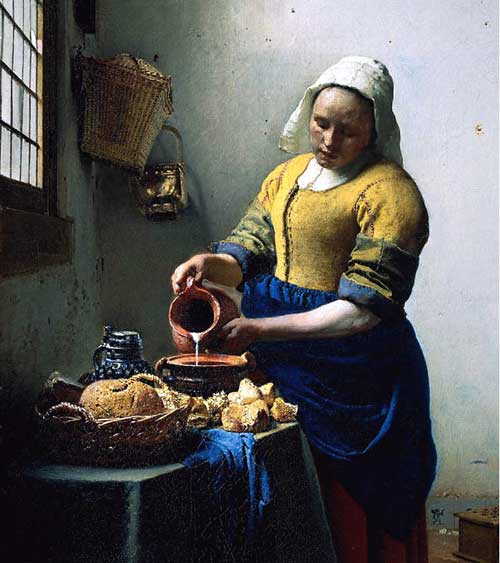 But that's a completely different discussion.
Up above, the very first photo of this Email absolutely has nothing to do with being at eye-level, but it IS shot from a different perspective than one that we see from a 'normal' position. It also has something to do with next week's composition topic of shapes and lines. If you look through our photos – we're very interested in lines and shapes and how they frame people, or balance compositions. This is how we look at a room and 'see' the photo – by looking at the shapes and lines that are present – and then we throw people in there. Honest – that's how many photographers 'see' a photo when they walk into a room. They look at the lines and shapes, and then decide how they want the 'people' to fit into that.
…and we'll probably also cover the one thing that really changed the way we photograph. It's a very simple thing, and if you've only ever shot with a point and shoot camera then you've probably never done it before – but you can, even with your point and shoot. So check us out next week.
Thanks for reading.
Sincerely,
Leah and Mark Tioxon
LeahAndMark.com